Yesterday I flew to see my sister in Anchorage, Alaska.  I had purchased my ticket more than a month previously and got the best price that I could, even though it wasn't a non-stop.  I was slated to fly on Delta to Salt Lake City and then onto Anchorage.  I also grabbed window seats for each leg of the flight so I could enjoy the view – I was actually looking forward to seeing the Rockies from the air.  But you know what they say about the best laid plans.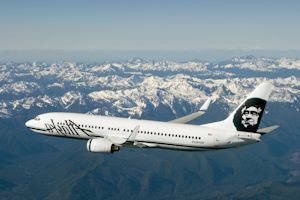 On my way to the airport, I get a call from Orbitz TravelAlert telling me that my first flight has been delayed 15 minutes.  I now begin to wonder about that 35 minute window I have in SLC.  Then I get a second call telling me the flight is now delayed 75 minutes.  I'm now starting to urge all the other cars on the road forward so I can get to the airport.  Once at the airport, I hit the Delta counter and soon find that my itinerary has been changed – changed so much in fact that I'm not even flying on Delta anymore.  They've booked me on an Alaska Airlines non-stop to Anchorage.
So, I go to the Alaska counter and get my temporary boarding pass and head for the gate.  Once at the gate, I notify my family at home and in Anchorage about the change and then wait.  I knew it was a long-shot, but I put in a request for a window seat thinking about all the cool pictures I could take out the window.  Alas, that was not to be.   Instead I got the aisle seat in the last row of the plane, next to the lavatories – yay!
Overall, the flight was good and I have nothing really to complain about, except there were no condiments left for the cheeseburger I bought on-board the flight.  I  had fun watching people come back and forth to the lavatories – there was one kid who came down about every ten minutes and then there was the little girl who got stuck inside and came out with big teary eyes (cuz her father didn't stay there and make sure she got out OK).  My row mates were an odd sort.  I think a German woman sat next to me and she was  putting spray up her nose and trying to sleep and just generally fidgety and not too friendly.  The lady with the window seat hardly even looked out the window as she read her book and then played a small electronic Yahtzee game.  My photo-shooting finger was feeling mightily frustrated!
But in the end it was worth it – I got to Anchorage 2 hours earlier than planned, met my sister at the airport and then headed to her place.  Now I'm set for some fun and adventure.