After the fun day in Denali, it was time to head back to Anchorage; I have only a couple days left with my sister in Alaska now.  Fittingly, the day started with drizzle and overcast clouds, the only bad day we've experienced during my trip.  None of us minded though since this was a down day that included the long train ride back to Anchorage.  After a filling breakfast, we checked out and headed over to the Denali National Park Visitor's Center.  We looked at the interpretive displays and did some people watching too – people from all over the world were there.  We then took the short hike over to the Science Center and then over to the bookstore.  Once I purchased my final souvenirs for the trip, we walked down to the train station to await our train.  After a while the train came and although it was late, we got rolling down the tracks soon.  I was tempted to just sit down and close my eyes to doze but I couldn't let my time here be passed by sleeping.  Instead I found myself taking pictures, moving around the train car and standing in the exposed area between the individual cars to get better pictures.  I thought the overcast skies gave a dramatic look to the landscape and I tried to capture it.  I also wanted to get pictures of things I missed on the ride up.  There is so much to see in Alaska since it is so big, untamed and wild.
One of the animals that I didn't see in Denali was a moose.  Not surprising since in three trips up, I've only seen a moose in the wild once (the cow moose and the two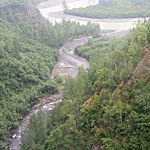 calves in Homer).  I was bound a determined to get a picture if I saw one.  Well, I failed on the picture taking but I did see two bull moose as we rode down the rails.  One moose was startled by the train and was running alongside a lake front.  By the time I could get my camera into play, it wasn't visible from my position.  Then my sister was joking with me that there was a moose in the meadow out her window (she was having some fun with me) but her boyfriend actually spotted the rack of a bull moose.  Sure enough, there was a moose out her window.  So I did see two bull moose, but alas, no pictures.  I also wanted to get a picture off of the Hurricane Gulch bridge.  This 900+ foot bridge covers a span that is almost 300 feet deep.  I was able to get a few shots of this breath-taking view.  As we rolled along, the railroad employees told us about some of the things that were passing by outside.  I think that the team on the Denali-Anchorage trip did a better job than the Anchorage-Denali crew did.   Because of this narration I was able to see a beaver dam that was over 75 years old, got some history on how the railroad was built and I now understand how to list out the types of Alaskan salmon.
There were other things I was trying to capture with my camera.  One was the amount of ferns along the way, but those are hard to photograph as you're moving at speed down the rails.  We passed fields of ferns that lined each side of the track.  When you think of Alaska, you think of cold and snow, but the southern part of Alaska is actually a temperate rain forest.  The ferns grow there naturally and in abundance.  Another thing that caught my attention was the amount of erractics that I saw, particularly in the rivers.  An erratic is a large boulder that a glacier just dropped.  Also along the way we saw beaver dams, lots of fireweed and just some simply beautiful settings with the sky and mountains.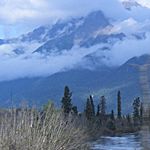 As we moved south, the skies started to clear but they didn't clear fully.  This allowed me to take some more dramatic photos as we neared Anchorage.  The clouds were still low in the sky and brushed over the tops of the mountains outside of Anchorage.  Slowly we worked our way into the city, past Elmendorf Air Force Base and into the Alaska Railroad depot.  It was nice to get out of the train and stretch but it was also a little sad since I had so much fun and valued the experiences I had with my sister in Denali.  After being denied a pizza at a popular restaurant in town (it was still packed with people waiting to get in at 8:30) we went back to my sister's place and had sandwiches and chips for dinner.
As we ate, I thought about how I needed to pack, because my flight back home left the next day.  I needed to make sure I could fit all the souvenirs I picked up for my wife and kids in my bag since I was at my limit.  Shortly, the day ended with my sister and her boyfriend heading to sleep since they had to work the next day.  I have one last adventure planned before I leave Alaska and I soon hit the hay myself so I had enough energy for that as well as the long flight home.