Driving Highway 1 from Anchorage on the way to Valdez, Alaska is a pretty solitary drive. Stark but beautiful landscapes surround you as you travel along the road. I was motoring along in April yet the temperatures were fairly nice requiring me to only have a hoodie on against a very light chill. As I'm driving along heading into Glenallen looking for a gas station to fill up, I start to see peaks in the distance. Hiding and peeking from time to time, the mountains don't come into view until you pass a crest in the road and it drops away into the distance. There before you is the start of the Wrangell Range with Mt's Drum, Wrangell and Blackburn displayed in full glory.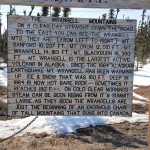 The picture I've included at the top doesn't do the view justice. The three mountains wreathed in white snow and ice sit majestically looking like you could just drive up to them. Along the side of the road, is a sign that shares that these are not just mountains but also volcanoes, with Wrangell being the biggest volcano in Alaska. There are also signs – from time to time – of geothermal activity at Wrangell, none of which I witnessed. I had always thought volcanoes existed in the western part of Alaska and along the Aleutian chain, but the friction of the continental and Pacific plates are at work here as much as they are in Washington State or California, so it makes sense. What is interesting is that unlike the explosive stratovolcanoes elsewhere in Alaska or in the Cascades, the Wrangell volcanoes are more like the ones in Hawaii, being built over time by numerous layers of highly fluid lava.
If you're ever up in Alaska and find yourself on the road from Anchorage to Valdez, take some time to admire the beauty of the Wrangell range and if time allows, to visit the Wrangell–St. Elias National Park and Preserve.


Panorama image of the Wrangell Range from a turnoff outside of Glenallen, Alaska. Click on image for full size.
All images taken with Samsung Galaxy S5