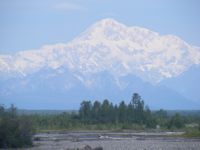 I'm an official member of the 30% club – I just need my membership card and a ceremonial pin.  You're probably scratching your head and wondering what I'm talking about.  Well, I saw Denali in all of its splendor as we were on the train north.  Since you're likely to have only a 30% chance of seeing the mountain, I got lucky on my first try.  Let me tell you a little about this day.
We started out from Anchorage about 8:15 in the morning.  As the day dawned, we hoped for the best but didn't expect too much.  There are fires burning to the west and north of Denali and smoke has been in and out of the area.  Besides being bad to breathe, smoke can also obscure vision, and each one of us wanted to see "The Great One" – Denali.  The best viewing of Denali is from the Talkeetna area since the mountain is toward the southern portion of the park.  So as we were going up, we all looked from time to time.  Once I looked out, there was nothing and then before you knew it, someone was calling out, "There it is!"  Sure enough, Denali (or Mt. McKinley) was visible, gleaming white in the brilliance of the sun.  I was lucky and persistent enough to be positioned well to get some pretty good shots of the mountain.  This is my first time (and may be my only time) to come to Denali and I was lucky enough to see the mountain.  Others have come numerous times and have not been able to see it.  We were extremely lucky that day!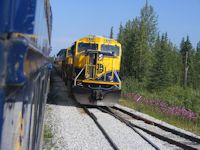 The trip to Denali was completed by train on the Alaska Railroad.  This train takes about 7 hours to travel from Anchorage to Denali.  You can travel the route faster by car, but you don't get to see and focus on the same sights.  You'd be worn out from about 5 hours of driving instead of having the luxury to read, converse, sight-see or just sleep as you travel.  Knowing me, I was sight-seeing all the way, baby!  The train trip was great and relaxing, allowing us to see a part of Alaska that's not available from the road.  The rail cars have assigned seating but you are able to travel to other cars that have observation seats in them.  There are also open areas between the cars that make for excellent picture taking. The train also has a sit down dining car as well as a snack or bistro car.  Since we left shortly after 8 AM, we had breakfast at my sister's place, but had lunch on the train – pretty good buffalo chili.  As interesting as the trip is, it can get a bit monotonous, so we all dozed off at least once.  I found myself standing for much of the trip in between the cars.  Here, you have the entrance to the car when it is stationary, but when the train is moving this gap creates a partial opening that allows you to see what is going on outside and allows you to take a look up and down the length of the train.  I found this to be exciting as well as a great way to enjoy the warm sun on my face.  I would recommend the method of travel to others who are thinking about heading to Denali.
So the comfortable train service and the clear skies that allowed me to see Denali made this a day to remember.  I hope to someday be able to make this trip again with my family but if not, I know that I have see the Great One and have stared upon its rocky face.